our business
With 25 years in solar technology development, PV Crystalox Solar is a leading manufacturer of multicrystalline silicon ingots and wafers, the key component in solar power systems.
Its customers, the world's leading solar cell producers, combine these wafers into solar modules to harness the clean, silent and renewable power from the sun.
PV Crystalox Solar is playing a central role in making solar cost competitive with conventional hydrocarbon power generation and, as such, continues to seek to drive down the cost of production whilst increasing solar cell efficiency. The gap between the cost of solar power production and utility energy is decreasing year on year.
With a long history of production with high growth and profitability, PV Crystalox Solar is well placed to benefit greatly from the rapid growth in the solar energy market.
PV Crystalox is the first company to develop multicrystalline technology on an industrial scale, producing the first 66cm ingots in 1996, which has now become the industry standard.
Production of our ingots takes place in the Oxfordshire (United Kingdom) plant and the production of our wafers takes place in the Erfurt (Germany) plant.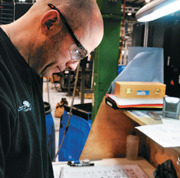 Established in
1982
2016 ingot production
450MW